Originally published on Firearms News by Luis Valdes, FL GOA State Director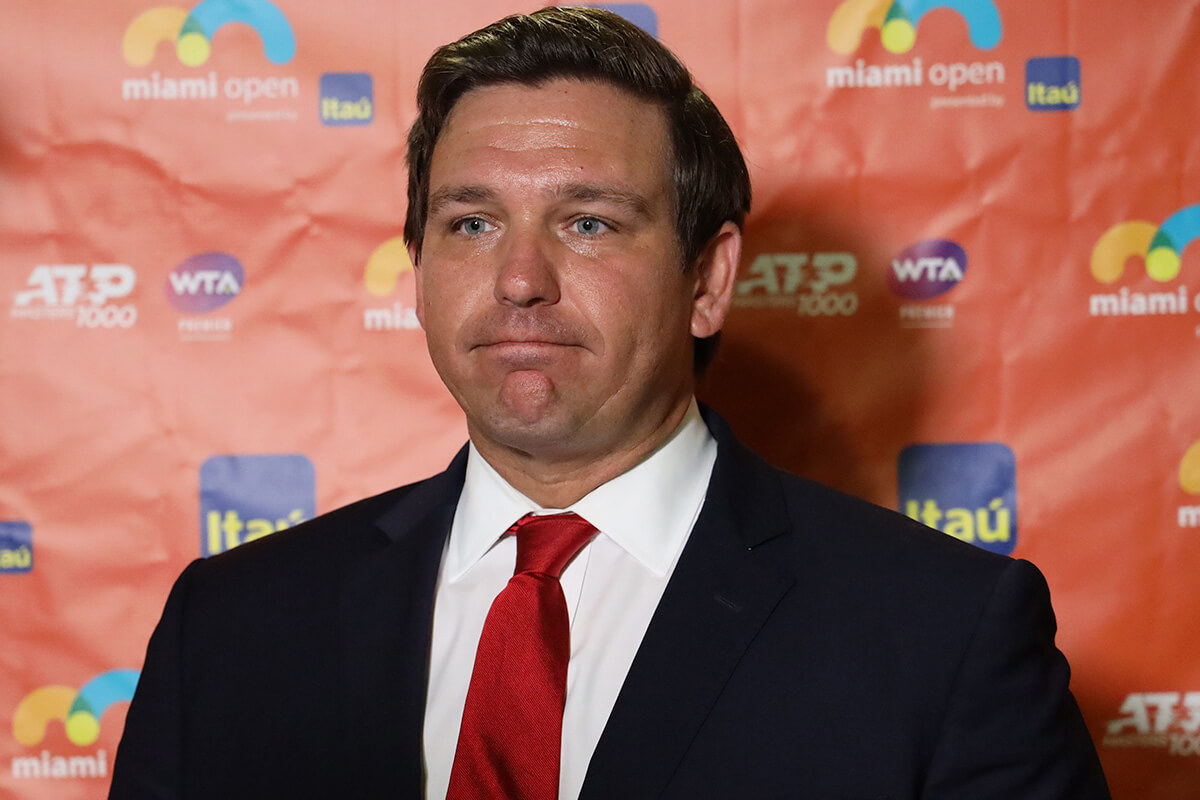 This past week was the Alachua County Republican Executive Committee's 20th Annual Ronald Reagan Black Tie & Blue Jeans BBQ, and they had Governor Ron DeSantis as the keynote speaker.
As I reported earlier in a previous article, right before the event was to happen, it came out that the event was a gun-free zone — something that the Governor has said doesn't work. Remember what Gov. DeSantis said about the mass shooter who opened fire at a grocery store in New York state and how gun-free zones/gun control doesn't work? He stated:
"The Buffalo shooter, for example, said 'you know I'm going places where I don't have to worry about people, conceal carry, or anything like that', because he wants — they wanted basically sitting ducks." – Gov. DeSantis – Florida Phoenix; June 3, 2022
Well, as I stated in the previous article, I don't think that Gov. DeSantis is anti-gun, but I was going to be there to not only find out what was happening, but to also push for better gun rights in Florida.
Here's my report on what happened on October 20 during the event.
I got there around 3 p.m. and was met by a local reporter, Mr. Camron Lunn of WCJB 20, which is the local ABC affiliate.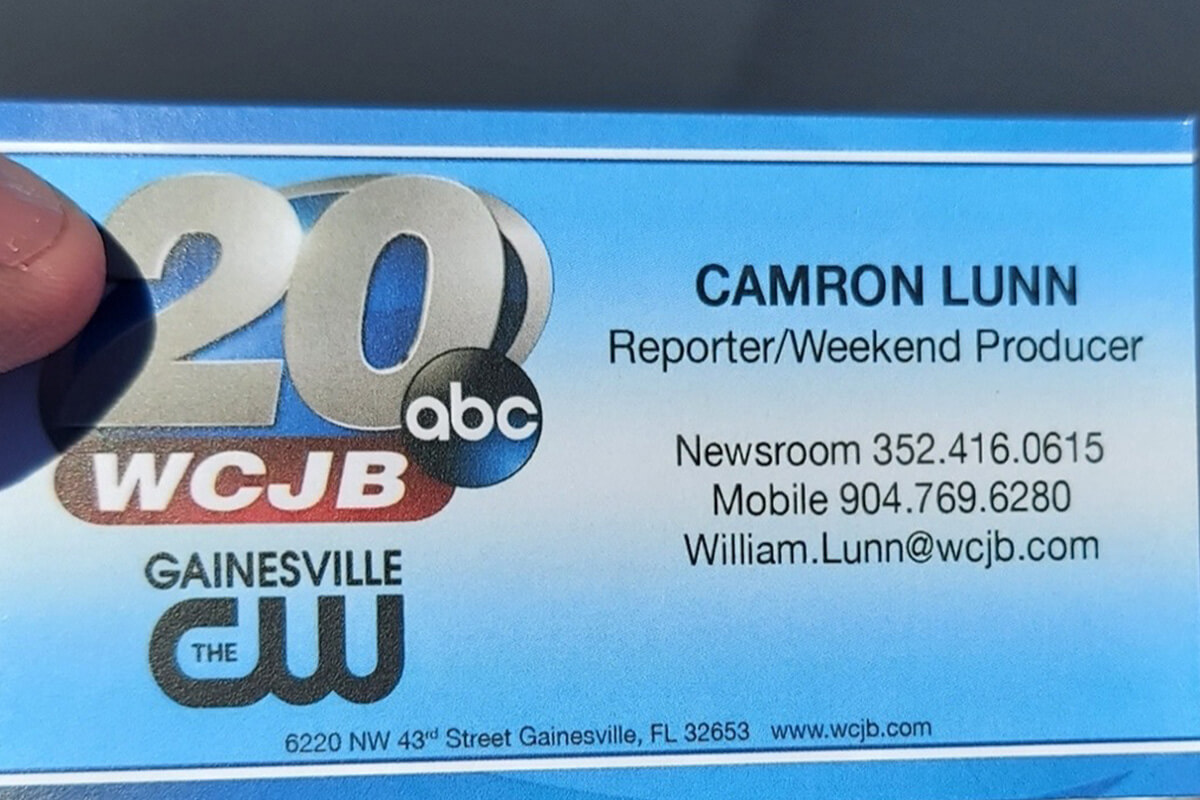 He interviewed me and asked why I was there. I told him that as Gun Owners of America's FL State Director, I was there to educate attendees on our gun rights … to have them discuss Constitutional Carry … and to show our disapproval for gun-free zones. Furthermore, I reiterated that I am supportive of Gov. DeSantis and how he's been running the state. I wanted to thank him for openly backing Constitutional Carry.
The latter is something that Charlie Crist has never done when he was governor, and something that he'll never do since he's now pushing for an "assault weapons" ban.
Mr. Lunn said that the interview should be airing around the 6 p.m. timeframe. It never did.
I even wore my finest jeans and Gov. DeSantis autographed hat.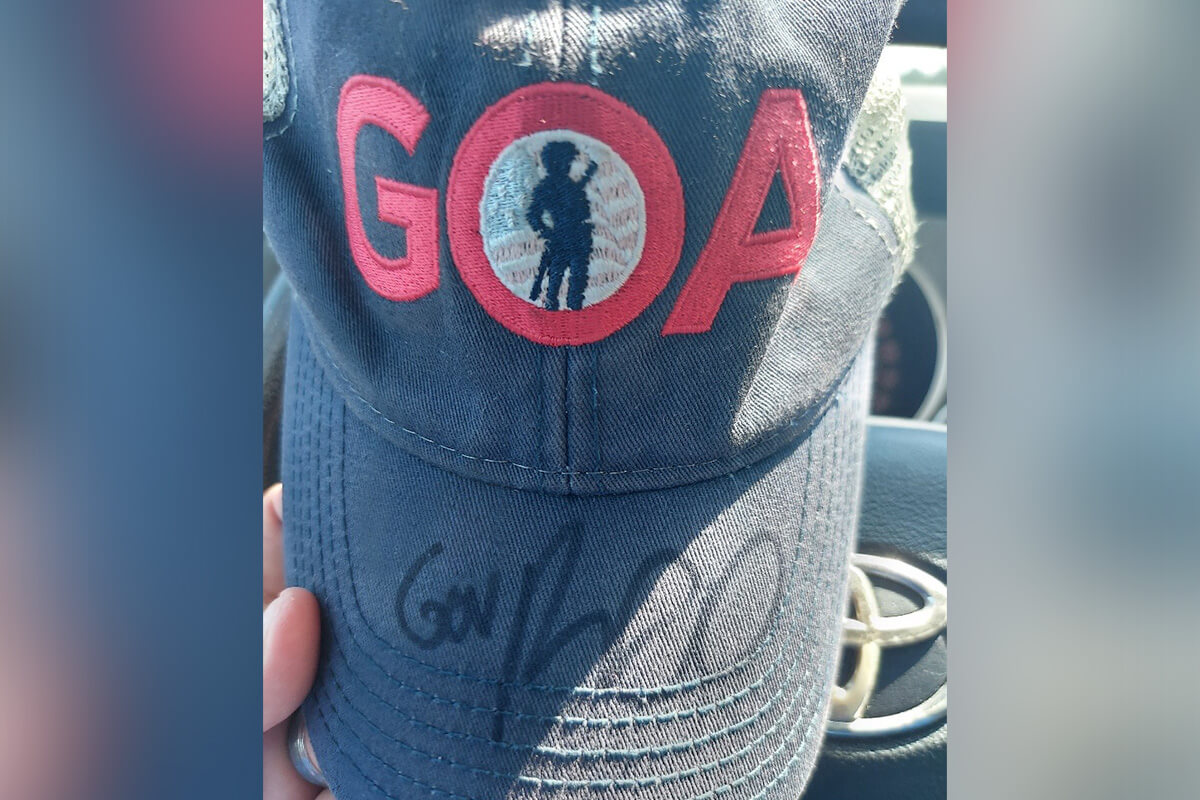 I guess the local media couldn't dare show someone being supportive of the governor.
Anyway, around 4 p.m., Chris Rose showed up. Who is Chris Rose you might ask? He's an Alachua County resident and fellow Second Amendment patriot. He's the reason why we have the incoming House Speaker, Rep. Paul Renner, on video pledging support for Constitutional Carry for the 2023 legislative session.
But Chris has done more than that. He goes to every City of Gainesville gun buyback event and stands outside of them, offering cold hard cash to folks who are looking to turn in their guns to the city. He makes sure they get a better offer and makes sure the guns aren't destroyed. Chris also goes to the capitol on short notice and helps fight the good fight there for our gun rights.
Okay, enough of that and back to the event. So, Chris shows up and we start talking about guns and gun rights. During that conversation, he introduces me to a friend of his that is part of AREC (Alachua County Republican Executive Committee). I'm not mentioning the name of the friend for their sake of anonymity, but I was informed of the following by this person.
Turns out that the AREC was only notified of the event needing to be a gun-free zone two weeks prior to the event. Moreover, he was told, the governor wouldn't show up if it wasn't a gun-free zone. This person stated that AREC was notified of this by someone within the campaign.
Mind you, this is long after AREC has advertised it, long after they confirmed Gov. DeSantis to be a keynote speaker. They already had their flyers and digital ads in circulation. For AREC to pull out would have been disastrous.
I completely understand that and understand that someone from the campaign put AREC between a rock and a hard place. The Ronald Reagan Black Tie & Blue Jeans BBQ is their main money-making event. It is literally how they raise the majority of their capital to operate the following year. So, for them to cancel the event because someone from the campaign said to make it a gun-free event or lose the governor, they had a hard choice.
After that conversation with the insider, Chris and I went to do what we came there to do. I was there to meet the attendees and talk to them. I told them that gun-free zones don't work, and I explained the benefits of Constitutional Carry. Chris simply went to a public sidewalk and stood there silently with a sign stating he will not be disarmed.
Well, about twenty minutes into that, things changed. Someone from inside the event came out and told Chris he could not be there with his sign. Then, a City of Alachua police officer escorted him halfway to the middle of the park.
Mind you, the event was being held indoors in a multiuse building and Chris was outside, standing on a public sidewalk in a public park. This place has been enumerated as a traditional public forum in which the public has the right to freely exercise their First Amendment rights.
So much so that in Hague v. Committee for Industrial Organization, 307 U.S. 496 (1939), US Supreme Court Justice Owen J. Roberts stated the following:
"Wherever the title of streets and parks may rest, they have immemorially been held in trust for the use of the public and, time out of mind, have been used for purposes of assembly, communicating thoughts between citizens, and discussing public questions. Such use of the streets and public places has, from ancient times, been a part of the privileges, immunities, rights, and liberties of citizens." So, Chris is in a field, surrounded by law enforcement and Chris tells them that he has the right to be there.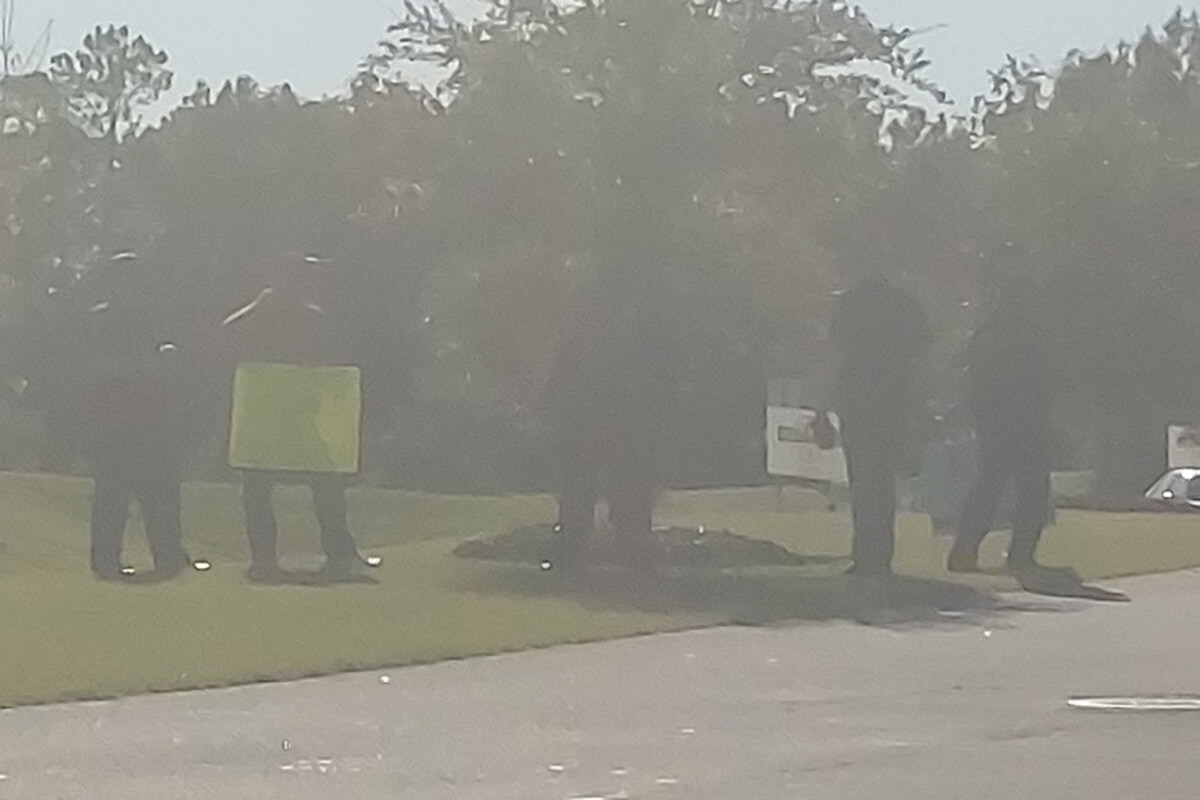 According to Chris, one of the officers contacted a superior, who in turn contacted the City Manager's office. That conversation between the police department and the City Manager's office confirmed that Chris was right, he could be there. The park and sidewalks as a whole were not part of the event, just the building. At the conclusion of that conversation, Chris was informed by the officer that he could go back to where he was originally standing.
That's exactly what Chris did. And won't you guess, someone again came out from inside the event and told Chris he couldn't be there, again.
Well, this go around, the person told Chris that he would be trespassing. But given that Chris had just been told by officers that he could be there, he stood his ground. That's when another officer detained him and arrested him for trespassing.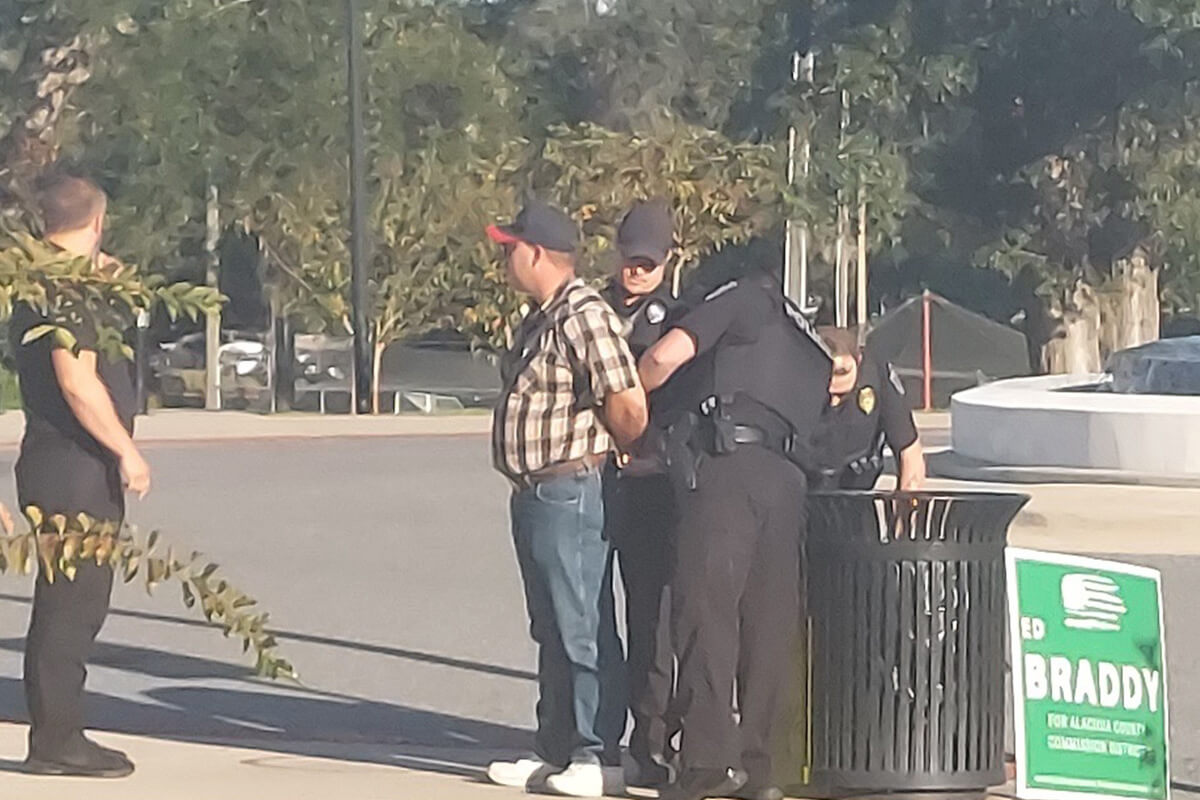 LET THAT SINK IN. Chris was arrested and charged with trespassing on a public sidewalk in a public park by someone who came out of the building.
At no point was Chris trying to make entry … he wasn't blocking any doorways … he wasn't yelling or cussing. He was simply standing on a sidewalk, holding a sign. And the City of Alachua PD arrested him and charged him with trespassing on a public sidewalk in a public park, after he was told by one of their officers that he could specifically be there!

Gun Owners of America will not and did not stand for that. Immediately, as GOA's FL State Director, I contacted HQ along with a fellow Second Amendment Patriot, Mr. Eric Friday of Florida Carry. Together, GOA and FL Carry agreed that neither organization will allow someone's First Amendment rights to be violated, especially when they're actively exercising those rights to defend the Second Amendment.
As such, GOA retained the services of Mr. Friday to legally represent Chris during the legal proceeding. Additionally, GOA has sent out a membership alert, urging all of their Florida members to contact the State Attorney's Office to drop the charges filed against Chris.
But that's not all GOA has done. As GOA's FL Director, I've reached into my past bag of tools as a police investigator and done some digging on what's going on.
Again, I want to reiterate that I don't believe Gov. DeSantis is anti-gun. He openly backs Constitutional Carry … has stated that gun-free zones don't work … has signed some good pro-gun legislation into law … and even has called out the Republicans in the legislature for their failure to act on passing Constitutional Carry.
What the evidence currently is pointing to is that the big government-loving establishment swamp that has infected his campaign is anti-gun.
I know the governor is busy as heck running the state, running a reelection campaign, traveling all over, etc. I know and understand that he has delegated work to staffers within his campaign. And right now, everything is pointing to his campaign as the one that is turning his events into gun-free locations.
Between last Thursday and now, I've spoken to some folks on the basis that I keep them anonymous. But so far, these sources have been from different areas and separate offices across the state, and they've confirmed the same thing.
The governor is so busy, being shuttled from event to event, that he really doesn't have the up-to-the-minute details of the events in question. He is whisked in, does his campaign stumping, and whisked out to another event. Plus, he is running the state and making sure that Floridians get the proper services they deserve after a devastating hurricane. He is a busy man.
All my sources have said the same thing in regard to the modus operandi of the campaign itself. Someone within the campaign is making it a gun-free zone, and they don't think it is the governor.
I tend to agree with that.
So, how can this change? We need to get the governor's attention so he can see what's happening.
One of the event sponsors did that in a very clever way. Big Daddy Unlimited, a large online FFL with a number of physical locations across the state, is an Alachua County business. They sponsored the event long before it became a gun-free zone. When they found out that the event was to become a gun-free zone, they had already made their sponsorship donation and were granted a full-page spot for an ad of their choice.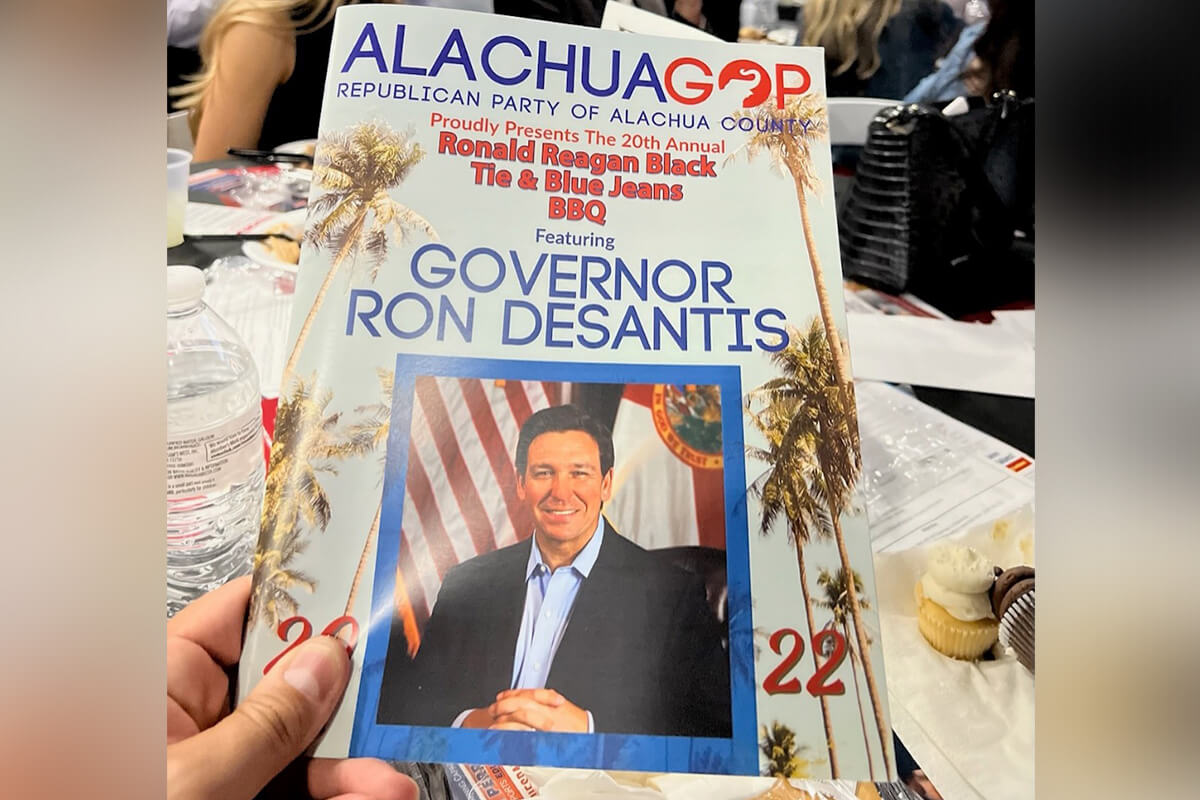 Instead of the traditional ad, they made sure their ad in the event program said the following.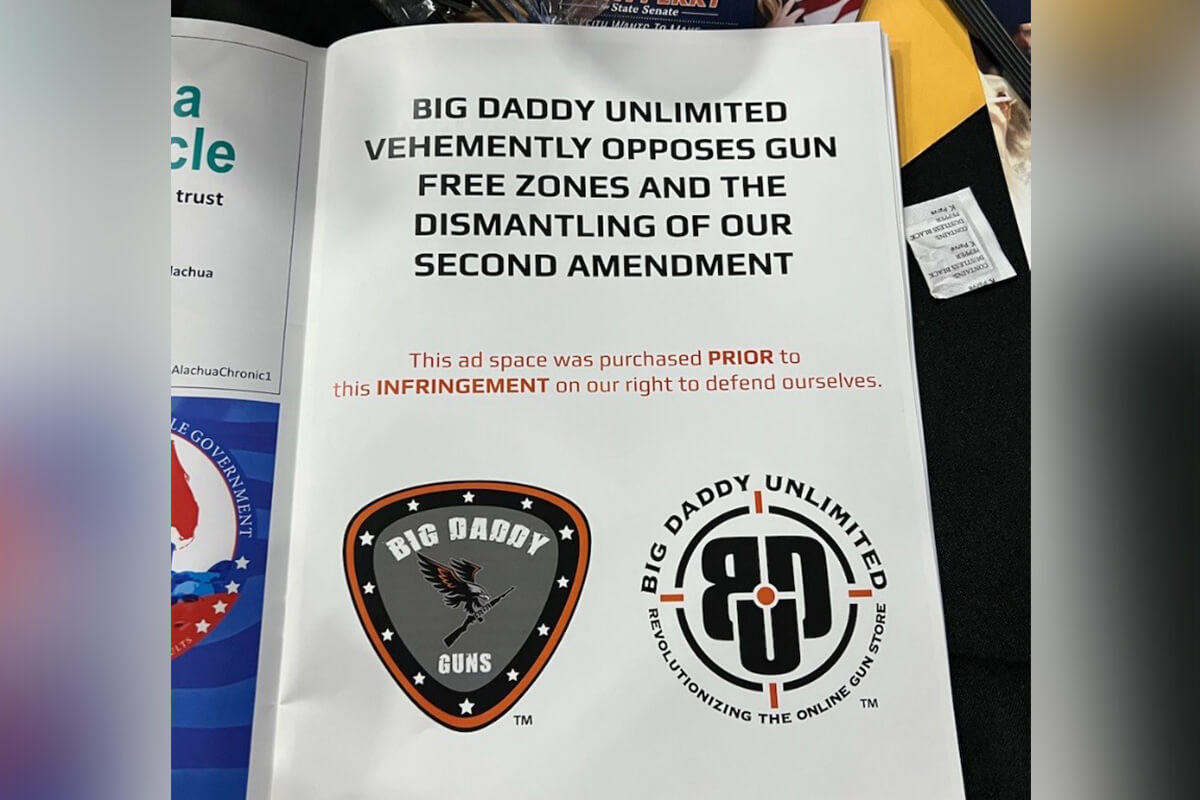 Yes, that's right, instead of a glossy full-page ad showing all the guns and accessories they sell, they put a simple message, THEY OPPOSE GUN-FREE ZONES.
The sources I've spoken with have all said the same thing. They all complained to the campaign and said this makes the Gov. DeSantis look bad. They all know that he isn't anti-gun, but they're angry that the campaign is doing something that paints him in that light. The fact that his venues are now gun-free zones, plus the arrest of Chris Rose doesn't sit well in the minds of many DeSantis supporters, and they've let the Governor know about that too.
So, what can you do?
1. I'm asking all of Firearms News' readers to please do their part and send a message to the State Attorney to have their office drop all charges against Chris Rose. Click here to send the message to the State Attorney's office to have the charges dropped.
2. Spread this article and spread the GOA Action Alert.
3. If you want to donate to Chris Rose's legal fund, donate to GOA and contact FL Carry to thank them for their help in this too.
4. Support Gov. DeSantis. We cannot let Charlie Crist win this election. Gov. DeSantis is fighting the hard fight against the swamp, including those in the legislature that have blocked Constitutional Carry.
Again, everything is pointing to the bureaucratic swamp infesting Gov. DeSantis' campaign and not the Governor himself. So, be loud and proud as gun owners and help Chris Rose.
If you have any thoughts or comments on this article, we'd love to hear them. Email us at [email protected].
---
Big Daddy Unlimited advocates strongly for Second Amendment rights because we believe that the right to keep and bear arms exists to protect all of the other God-given rights of American citizens. Become a member today to join our community of freedom-loving Americans, and let's work together to support and defend our Second Amendment rights.